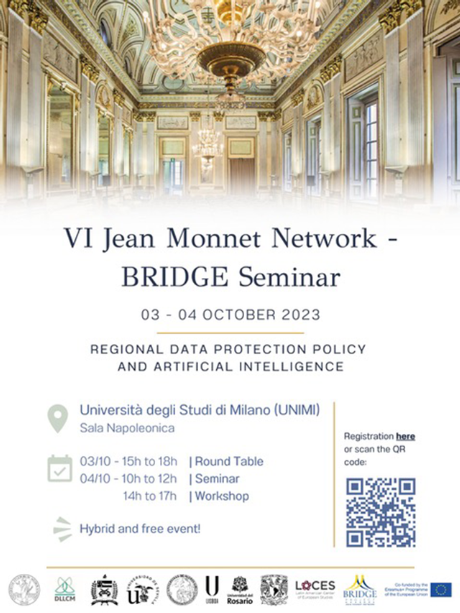 VI Meeting of the Jean Monnet Network "BRIDGE Project" Regional Data Protection Policy and Artificial Intelligence
03.10.2023 15:00 - 04.10.2023 18:00
Università degli Studi di Milano
Postato da Amministrazione
Categorie: TLC, Digital e Cybersicurezza
Visite: 242
The VI Meeting of the Jean Monnet Network "BRIDGE" will take place in Milan on Tuesday 3 and Wednesday 4 October 2023, concluding the Project "Building Rights and Developing Knowledge between European Union and Latin-America - BRIDGE", developed within the Erasmus+ program of the European Commission (620744-EPP-1-2020-1-BR-EPPJMO-NETWORK) and aimed to promote studies and research on European integration in Latin America in order to build bridges of dialogue and exchange of good practices between the regions.
The theme of the meeting will be Regional Data Protection Policy and Artificial Intelligence.
General Program
October 3rd 2023

15h-18h00
Sala Napoleonica
Via Santo Antonio 12 Milano
Round Table "Digital transformation and regional integration processes"
Sala Napoleonica
Via Santo Antonio 12 Milano
15h-15h10
Opening Act:
Naiara Posenato, Università degli Studi di Milano, Italy
Aline Beltrame de Moura, Universidade Federal de Santa Catarina - UFSC, Brazil
15h10-15h50
Table 1
Moderator: Ilaria Angela Anrò, Università degli Studi di Milano, Italy
AI & Diplomacy: EU AI Act. An Ethical Tech Global Governance Proposal
Mario Torres, Universidad Pontificia de Salamanca, Spain
Technology in conflict, human rights and inter-state litigation
Walter Arevalo Ramirez,
Universidad Del Rosario, Colombia
The internet as a human right
Manuel Becerra Ramirez, Instituto de Investigaciones Jurídicas - UNAM, Mexico D.F.
15h50-16h30
Table 2
Moderator: Roberta Clerici, Università degli studi di Milano, Italy
The impact and potential risk of AI of AI ACT on Data Protection
Giuseppe Vaciago – Coordinator of AI Table on Artificial Intelligence (Milan Bar Association)
A globalização da legislação europeia sobre economia digital
Nuno Cunha Rodrigues, Universidade de Lisboa, Portugal
Transformación digital y forma de los acuerdos de elección de foro en el Reglamento UE 1215/2012
Beatriz Campuzano Diaz, Universidad de Sevilla, Spain
16h30 - Coffee Break
17h-17h40
Table 3
Moderator: Laura Scarabelli, Università degli Studi di Milano
La trasformazione digitale e lo sviluppo sostenibile in Mercosur
Sandra Negro, Universidad de Buenos Aires, Argentina
Comércio Internacional no Mercosul diante do desafio da transformação digital
Joana Stelzer, Universidade Federal de Santa Catarina, Brazil
L'uso dell'intelligenza artificiale nel sistema giudiziario brasiliano
Aline Beltrame de Moura, Universidade Federal de Santa Catarina, Brazil
October 4th 2023


10h-12h - Seminar "Regional Data Protection Policy and Artificial Intelligence"
Sala Napoleonica
Via Santo Antonio 12 Milano
Opening Act
Giuseppe Ludovico
Coordinator of Doctoral Program of Comparative, Private, Civil Procedural and Business Law, Università degli Studi di Milano
Naiara Posenato
Conference Organising Committee, Partner of "Bridge Project", Università degli Studi di Milano
Aline Beltrame de Moura
Conference Organising Committee e PI of "Bridge Project", Universidade Federal de Santa Catarina - UFSC, Brasile
Giovanni Ziccardi
Conference Organising Committee, Università degli Studi di Milano
Speakers
Prof.ssa Ginevra Cerrina Feroni
Vice President of the Italian Data Protection Authority
Prof. Fabiano Hartmann
Coordinator of R&D Project on AI systems for Brazilian Judiciary
Avv. Giuseppe Vaciago
Coordinator of AI Table on Artificial Intelligence of Milan Bar Association
Dott. Vittorio Calaprice
Political Analyst and International relations of Regional Office European Commission – Italy
14h-18h00 - VI Workshop Jean Monnet Network "Regional Data Protection Policy and Artificial Intelligence"
Sala Napoleonica
Via Santo Antonio 12 Milano
Opening
Naiara Posenato
Università degli Studi di Milano
Aline Beltrame de Moura
Universidade Federal de Santa Catarina