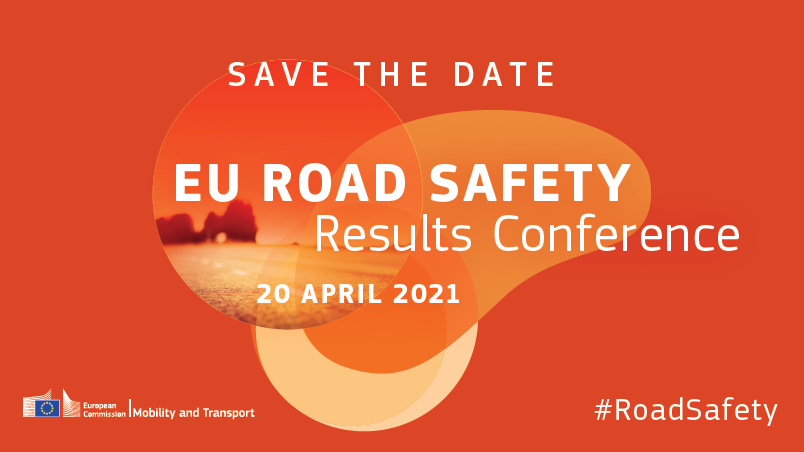 EU Road Safety Results Conference
20.04.2021 09:00 - 20.04.2021 12:30
on line
Postato da Amministrazione
Categorie: Trasporti, Webinar e Corsi
Visite: 107
20 APRIL 2021, 09:00 – 12:30
The EU Road Safety Results Conference is an opportunity to engage with EU Member State authorities and all stakeholders on the progress being made with implementing the Safe System approach. In particular, it will allow participants to learn how work towards the Key Performance Indicators set out in the Next Steps Towards Vision Zero policy framework is moving forward. It will also offer a forum for analysis and exchange between senior EU policy makers and the wider European road safety community.
THE 2021 EDITION WILL BE HELD ONLINE
Programme
OPENING WORDS:
Matthew Baldwin, Deputy Director General, DG MOVE, European Road Safety Coordinator
WELCOME ADDRESS:
Adina Vălean, European Commissioner for Transport
KEYNOTE ADDRESS - THE IMPORTANCE OF THE SAFE SYSTEM APPROACH FOR EUROPE:
Elena Kountoura MEP
MONITORING PROGRESS:
Claire Depré, Head of Unit, Road Safety, DG MOVE
PANEL DEBATE – IMPLEMENTING THE SAFE SYSTEMS APPROACH IN EUROPE:
Moderated by Henrik Hololei, Director General, DG MOVE
Elena Kountoura MEP
Antonio Avenoso, Executive Director, European Transport Safety Council
Malina Kroumova, Chairperson, State Agency for Road Safety, Bulgaria
Denis Cusack, Director, Medical Bureau of Road Safety, Ireland
Q&A
COFFEE BREAK
BREAKOUT SESSIONS
BREAKOUT SESSION 1: SPEED
What is the impact of inappropriate speed on Europe's roads? What can be done to improve the situation?
Alfonso Gil, Deputy Mayor of Bilbao and Council Coordinator for Mobility, Environment, Urban Regeneration and Healthy Development Policies
Koen Ricour, Chief Commissioner, Director, Belgian Federal Highway Police
BREAKOUT SESSION 2: ALCOHOL
What is the state of play with drink and drug-driving in Europe? How should it evolve? Why are some Member States doing better than others? What are the policy implications?
Manuelle Salathé, Secretary General, Observatoire national interministériel de sécurité routière (ONISR) (FR)
José Fernando Guilherme, Road Safety and Fleet Energy Rationalization, CTT (PT)
BREAKOUT SESSION 3: DISTRACTION
How is the situation evolving regarding driver distraction, for instance with mobile phones? Why are some Member States doing better than others? What are the policy implications?
Veronika Valentova, Director of Traffic Engineering, Road Safety and Strategy Division, CDV (CZ)
Tjark Kreuzinger, Senior Manager Safety Research & Technical Affairs, Toyota Motor Europe
CONCLUDING PLENARY SESSION
Feedback from the breakout sessions
Speed: Karen Vancluysen, Secretary General, Polis
Alcohol: Maria Seguí Gomez, Independent consultant
Distraction: Jonathon Passmore, Programme Manager - Violence and Injury Prevention
WHO Regional Office for Europe
CLOSING WORDS:
Matthew Baldwin