Quando la bioeconomia è circolare. Due progetti per un workshop Sherpack-UrBioFuture
Salva sul calendario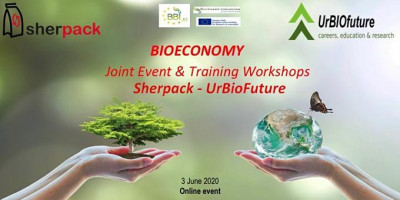 Da 03.06.2020 09:00 fino a 03.06.2020 16:30
Inserito da Amministrazione
L'idea di questo workshop è quella di riunire attori del mondo industriale, della ricerca e della formazione, che operano o vorrebbero iniziare a lavorare nel settore della bioeconomia e dell'economia circolare, con l'obiettivo di scambiare idee ed esperienze e quindi promuovere un percorso rapido verso una produzione industriale più sostenibile.
Clicca qui per partecipare: https://www.eventbrite.it/e/bioeconomy-joint-event-training-workshops-sherpack-urbiofuture-tickets-104818860032
Programma:
9.00-9.30 Welcome and Introduction
Organizing Committee (M. Bertoldo), Cnr-Isof director (R. Zamboni), BBI delegate for Cnr (M. Guerrini).
9.30 Circular Bioeconomy in Europe and in Italy, and role of BBI JU in its implementation.
Prof. Fabio Fava (University of Bologna and IT Representative in a) Horizon2020 SC2 Programming Committee, European Commission and b) States Representatives Group, PPP "Bio-based Industry").
9.50 Biotechnology for bioeconomy: project management and public affairs
Dr.ssa Fabiana Gatto (Lombardy Green Chemistry Association, Milano - Italy)
10.10 The BBI – Urbiofuture: Boosting future careers, education and research activities in the European bio-based industry.
Dr Aleix Barrera-Corominas (Applied Pedagogy Department Universitat Autònoma de Barcelona).
10:30 The BBI – Sherpack: Innovative structured polysaccharides-based materials for recyclable and biodegradable flexible packaging.
Ing. Laura Crowther-Alwyn (Centre Tecnique du Papier, Grenoble - France)
10.50 - Break -
11.10 The BBI – Polybioskin: High performance functional bio-based polymers for skin- contact products in biomedical, cosmetic and sanitary industry.
Prof. Maria Beatrice Coltelli (University of Pisa, Pisa - Italy)
11.30 Territorial regeneration in the circular bioeconomy perspective: the embraced project.
Dr.ssa Tiziana Milizia (Novamont Spa, Novara - Italy)
11.50 The AgriMax: Developing and demonstrating the production of multiple, high-value products from crop and food processing waste.
Dr. Marco Bertolini (Chiesa Virginio Azienda Agricola, Canneto Sull'Oglio (MN) - Italy)
12.10 Furan based chemicals and materials for a sustainable development.
Prof. Nadia Lotti (University of Bologna, Bologna - Italy)
12.30 - Lunch Break -
14:00 Challenges and opportunities for the sustainable production of bioplastics.
Dr.ssa Melissa Balzarotti (Consorzio Italbiotech, Milano - Italy)
14.20 EcoReLabel: ecological removable and recyclable labels.
Dr.ssa Lottini Elisabetta (Irplast Spa, Empoli (Fi) - Italy)
14.40 Post-consumer plastic packaging waste management.
Ing. Paolo Azzurro (Anci – Associazione Nazionale Comuni Italitani - Emilia Romagna)
15:00 The "UrBioFuture Experience"
Dr. Gioacchino Schifino (Cnr-Isof, Bologna - Italy)
15:20 RAISE: RawMaterials Students Internships. A case study from EIT Raw Materials.
Dr. Paolo Dambruoso (Cnr-Isof, Bologna - Italy)
15:40 Teaching Bioeconomy and the Circular Economy concepts in the secondary schools.
Dr.ssa Giovanna Sotgiu (Cnr-Isof, Bologna - Italy)
Segui i canali tematici su Telegram: